Waste and raw materials
We strive for the prevention of pollution and the minimisation of environmental harm. We use resources appropriately and sustainably and, where appropriate, substitute primary resources with alternative materials. We adopt the waste redution hierarchy of waste prevention, reuse of materials, recyling and energy recovery to minimise waste disposal and miximise productivity. We develop products that improve the quality and sustainaiblity of the built environment and we seek to eliminate all non-conforming products, mazimising customer satisfaction.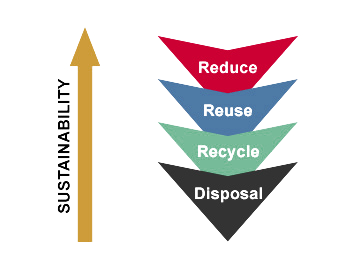 MQP produces its products as part of fully integrated production processes and has the ability to flex its yields to eliminate making waste products.
The Waste Hierarchy is based around the model of Reducing, Reusing, Recycling and Disposal with the most favoured option being to reduce waste and the least favoured option being the disposal of waste.
REDUCE - MQP manages its waste responsibly by reducing it wherever possible. Waste management targets are set to reduce the use of virgin aggregate and fuel oils.REUSE - Asphalt plants are targeted to reuse all waste asphalt and filler and through partnerships with west midland foundries we use waste resin sands in dense base Asphalts.
RECYCLE - With all units being set recycling targets for the use of foundry sand and rap materials we aim to make a 20% saving on virgin aggregate. Working with our fuel suppliers all of our asphalt plants now use waste oil (PFO) rather than gas oil with targets set to improve burn rate and initiatives put in place such as improved burner ignition. Other initiatives include the recycling of all our waste paper.
DISPOSAL - Segregation of waste streams at our sites results in more than 70% being recycled rather than being sent to landfill.
Head office
Sales enquiries
Orders
Technical Support
01530 239 426
Please place orders by calling 0330 123 2062