Haulage safety
'Safer by Design'
MQP constantly strive to explore safer and more efficient Working practices. We have been able to:-
Listen To the Concerns of the Driver
Explore New Innovative Ideas in design
Push the Boundaries for Change
Challenge Existing Practice.
All this has enabled us to produce a vehicle which is not just "fit for purpose", but also "Safer by Design" for the professional driver. By listening and understanding the needs and operational requirements of a tipper driver, we are able to adapt the way we do things to enhance a safer working environment. 
The minimum standard and requirement for a franchise to be granted is FORS Bronze accreditation and the vehicle is clocs equivalent.
The franchisee is expected to attain FORS Silver accrediation within a further 12 months.
The picture below shows some of the potential risks associated with a tipper vehicle and improvements made: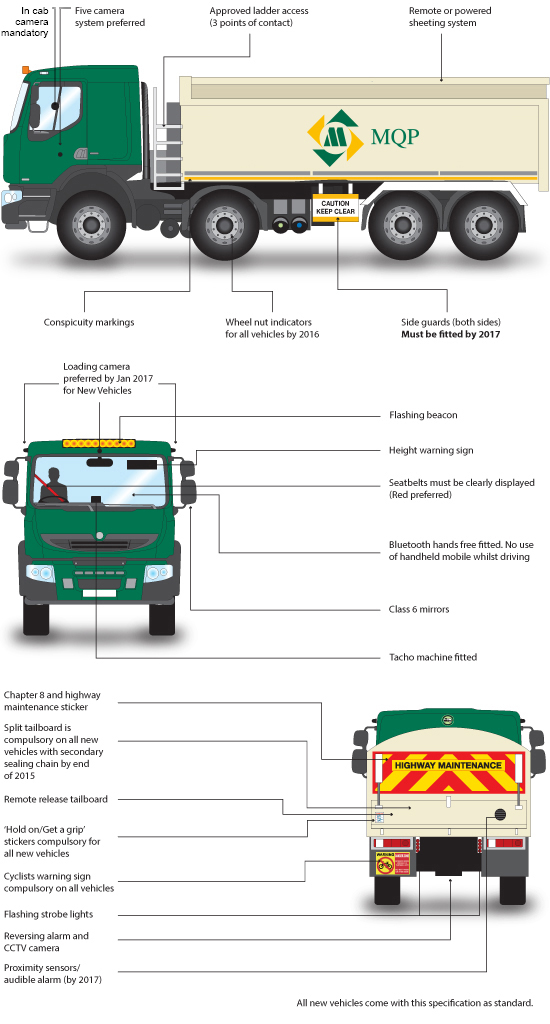 http://www.fors-online.org.uk/cms
http://www.clocs.org.uk/standard-for-clocs
http://www.mineralproducts.org/feature_cycle_safe.htm
Head office
Sales enquiries
Orders
Technical Support
01530 239 426
Please place orders by calling 0330 123 2062